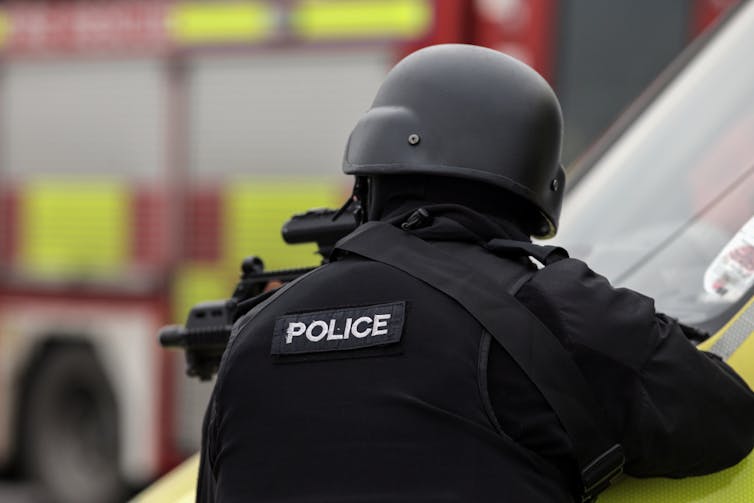 Just when you thought it couldn't get any lower, a Michigan cop tased an unarmed Black man while he was holding his two-month old baby. The video of the incident has gone viral and now the police have released a statement.
Police showed up to a home in Westland, Michigan where people were having a barbecue on Friday night, according ABC 7 in Detroit.
"We were just barbecuing, and we saw the cops come up," said one eyewitness and neighbor who recorded the footage. "They came up and asked us who was fighting. We were like, 'You got the wrong house.'"
Ray Brown, the man who was tased, got agitated with the police coming on his property and demanding answers for something no one knew anything about, according to other witnesses. Audio from the video indicated that an officer told Brown he was going to be arrested and to "get the baby out of here" as police tried to take the baby from him.
Brown responded defiantly:
"That's my child. He can be exactly where he's at. Give me my child. Give me my child."
"I had to catch the baby. I was in the street talking with the cops. I had to come over," Nichole Skidmore, the mother to two-month-old Christopher, told ABC 7. "The taser is on this side of him, and the baby is over here. As soon as they start tasing him the baby flew out of his hands and I had to grab him, or he would have fell."
Brown was ultimately arrested and was placed in custody.
In a statement, police claimed officers went to Brown's house because of a "report that a male subject had physically assaulted a female and that he had damaged her vehicle."
The statement about the unconfirmed assault continued:
"Westland Police Officers made contact with the man involved in the incident. It was determined that the man was going to be arrested for the assault, the damaged property and also for a number of outstanding arrest warrants."
However, police were denying tasing Brown even though it's on video.
"The video shows that during the deployment the child was also in the hands of the mother," the statement continued. "The child was not injured during the arrest. The child was examined by the Westland EMT and turned over to the mother."
The statement also indicated that the "investigation is only in the beginning phase."
The video clearly showed Brown being tased with his baby; eyewitnesses were screaming in the moment he was tased while holding the baby; the child's mother said the baby flew out of Brown's hands while he was being tased; yet the cops still managed to spit out this statement?
Make America great again.
Source: https://newsone.com